The wedding cake has become a big business in the wedding industry. Shows like Cake Wars have shown just how out there one can go with a cake design, but, more importantly, we've seen something of a paradigm shift away from the predictable and satisfactory to the unpredictable and sensational. Nonetheless, holiday weddings can often be more reserved and intimate affairs as November and December offer plenty of opportunities for you to be with the people who matter most to you.  
Of course, whether you're having a small family affair or a big holiday blow-out, cakes remain one of the central traditions of most weddings; a fun, light-hearted way to symbolize the everlasting love you plan to share with your partner. But holiday cakes can come in all shapes and sizes as well as styles, from playing it safe and classy with a holiday-themed cake to something more minimal or elaborate, we'll touch on below.  
Adding that Personal Touch in a Whole New Way 
We often talk about how true elegance isn't simply a matter of following others' weddings and incorporating their ideas into your own day. The cake is one of the final traditions on your wedding day and thus you want people to be remembering that moment for years to come. 
Obviously, having a cake that stands out in shape, color and size will always do the trick, but it's those cakes that reflect what makes your relationship work that tends to get covered by wedding blogs and magazines. For instance, say you live near a piece of street art that you and yours love passing on a daily basis, not to mention your friends and family when they come to visit you. Working with a cake maker you can devise numerous ways to capture that piece of art, whether just a part or the whole. What's important with graphics is that they reflect something truly intimate about your relationship. 
Changing Concepts of Feminine Elegance 
When surveying some of the celebrity wedding cakes that have caused local bakers to be besieged with requests for something similar, one cake that is particularly telling of current wedding cake trends is the blue and silver cake featured in famed record producer Jimmy Iovine's recent HBO documentary film The Defiant Ones.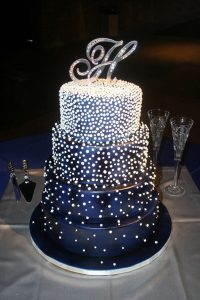 While pearl-like silver spheres spill over the top of the cake, they give way to a minimalist dark blue that when taken together is simply breathtaking. And while there's nothing wrong with traditional frill, sometimes taking a more minimal approach can achieve a unique elegance. 
Photo via Butter End Bakery 
For instance, Big Bang star Kelly Cuoco went for canister-like tiers that were eye-catching in their very simplicity. To inject some of her own feminine energy into the white-icing cake, she had intricate crystal design work bedecking each cake layer. 
Looking at trends is always a good idea, but never lose sight of your sense of style and taste. By looking at some of the above trends and thinking of how you can add your own personality into your wedding cake, you'll create a truly memorable wedding moment!